The exhibit guide
Eligible exhibitors
As of September 30th, 2023, we have closed the application acceptance.

*Poultry and pig farming industry-related facilities, machines, equipment, feed, and pharmaceuticals
*Technologies, research, products, commodities, and livestock environments related to hens and sows (excluding livestock) as well as poultry and pig farming industry promotion, and industry-related facilities, machines, equipment, materials, and pharmaceuticals
*Industry organizations, various types of media, and other related services
*Other
Exhibition areas
Special Project Zone
Smart Livestock Zone
Smart livestock practices are expected to help resolve many issues faced by the livestock industry, including the shortage of producers (successors), the need to increase production efficiency, the need to prevent crime, and the need to lighten the workload. We have set up the Smart Livestock Zone as a hub for showing off key smart-livestock equipment and technologies to visitors.
Sanitation Measures Zone
This zone is for products and equipment that are effective for dealing with viruses, including daily and livestock hygiene.
SDG (Environment) Zone
The livestock industry includes composting equipment and other conventionally used technologies that are utilized for initiatives related to the SDGs. This zone is for introducing the latest SDG-relevant facilities and machines as well as results.
Demonstration Area
This area is for showing visitors how products and different kinds of equipment work as well as their effects and characteristics. This area also enables exhibitors to demonstrate the superiority of their products in ways that are not possible just by using catalogs and videos.
*Planning is currently underway. Please note that there is a risk of cancellation depending on how things go.
Startup Booth
Trial booths are available for new companies that recently entered the poultry and pig farming industry. Please take advantage of these booths to collect industry information and conduct market research related to your company's products.
*Eligible exhibitors: companies that entered the industry within the last three years.
In addition, only companies that have not exhibited at past exhibitions are eligible.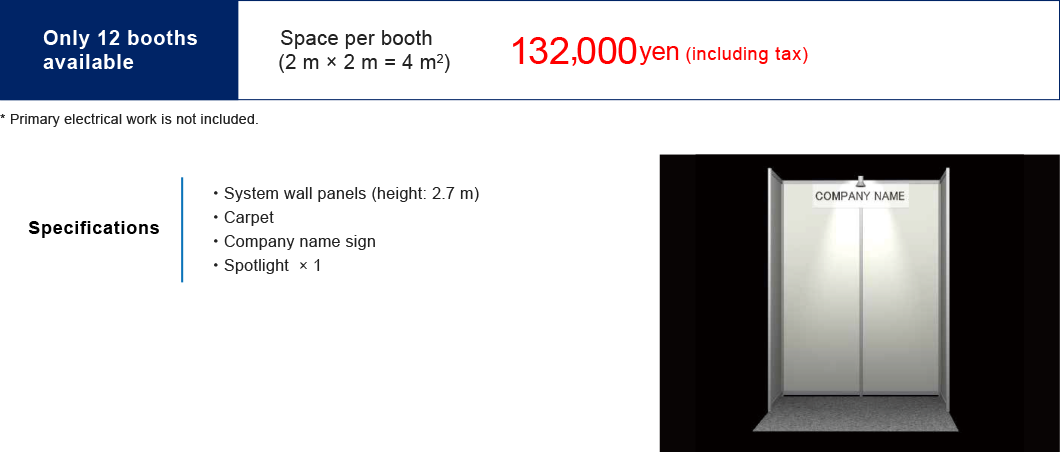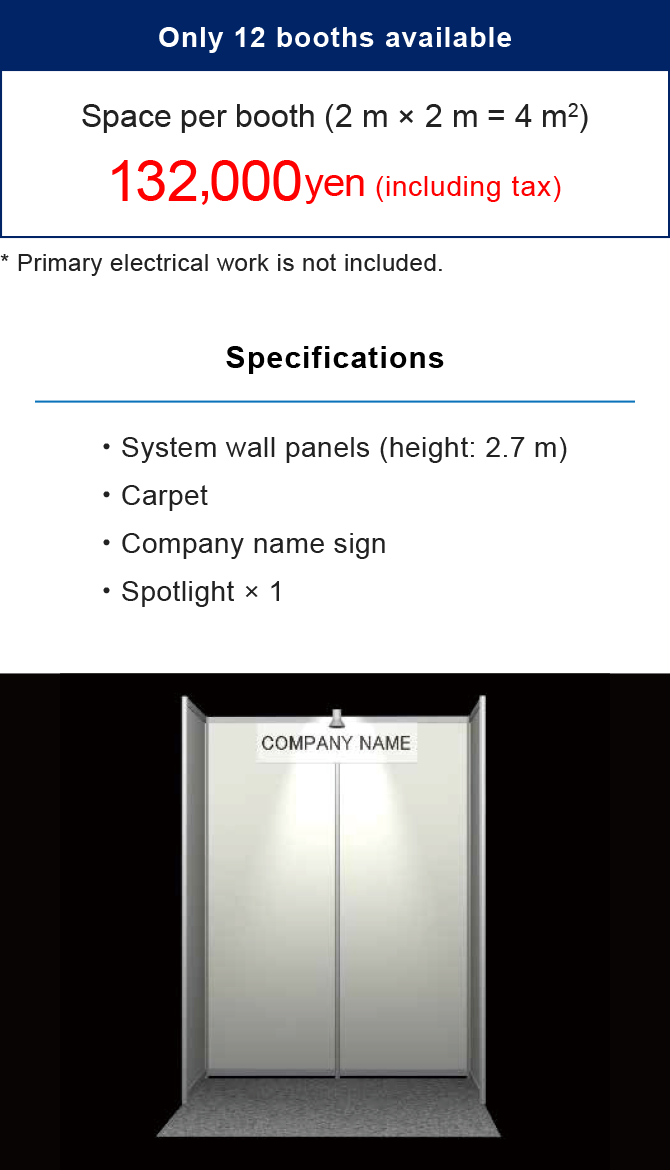 Sponsorship (supporters)
In addition to opportunities to prepare general exhibits, the International Poultry & Pig Show offers the opportunity to act as a sponsor, enabling you to put your company name, logo, etc. on advertising signs, official posters, and other things in the exhibition hall.
If you are interested, please contact the Secretariat Office.
Exhibition fees
Basic booth
Each exhibit must be set up in a separate booth. Details on the exhibition fees based on the number of booths are available here.
Application start date:
July 18, 2023 (Tue.)
Application deadline:
September 30, 2023 (Sat.)
*We will stop accepting applications before the deadline if all the booths fill up.
Please also note that the number of allocated booths might be adjusted by the Secretariat Office.
Options
If you apply for 1 to 3 booths, the decoration package below is available.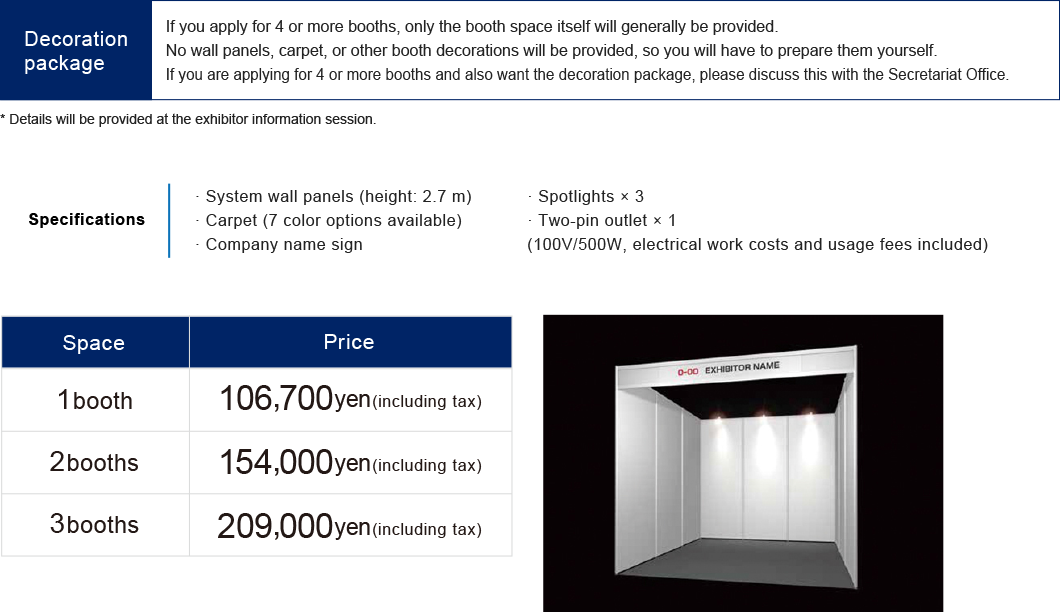 Company presentations
Application start date:
July 18, 2023 (Tue.)
Application deadline:
September 30, 2023 (Sat.)
*Applications will be accepted only from general exhibitors.
*Please note that slot availability is limited, so we might not be able to respond to your request. Also note that the Secretariat Office will adjust the specific times of each presentation.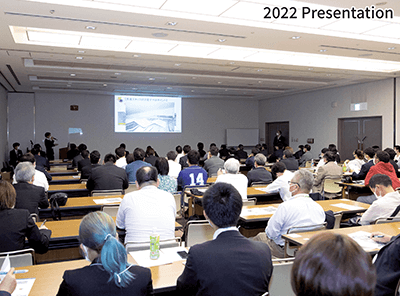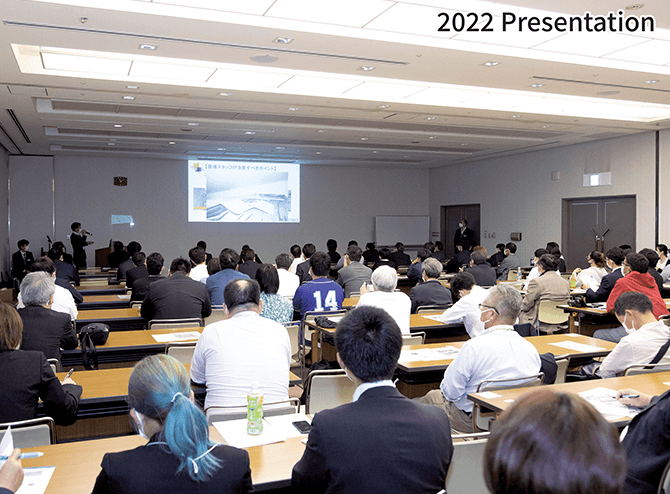 1 slot : 50 minutes
55,000 yen (including tax)

April 24 (Wed.) to 26 (Fri.), 2024
*Until 3:00 p.m. on the last day
10:30 a.m. / 11:30 a.m. / 1:00 p.m. / 2:00 p.m. /
3:00 p.m. / 4:00 p.m.

conference room (school format)

screen, projector, microphone, laser pointer

1. High-quality egg, poultry, and pork production and sales
2. Facilities/machines
3. Poultry and pork brands
4. Chicken and pig manure processing
5. Drugs/vaccines
6. Other